Reliable systems certified according to EN 9100
In the realm of aerospace, the demands imposed upon the components you procure are of the utmost rigor. It is imperative that your chosen partner demonstrates unwavering reliability and possesses the acumen to resolve any challenge that may arise. They must deliver performance levels that many aspire to achieve. What instills confidence when you place an order? It is our EN 9100 certification that attests to the exceptional quality of our internal quality management within the aerospace domain. Few other industries impose such exacting standards concerning the safety and dependability of individual components. In accordance with our certification for our electric drives and control electronics, we proudly affirm our full compliance with these stringent requirements across our operational domains.
We eagerly anticipate the opportunity to collaborate on your unique project. Please do not hesitate to schedule a consultation at your convenience, with no obligation whatsoever.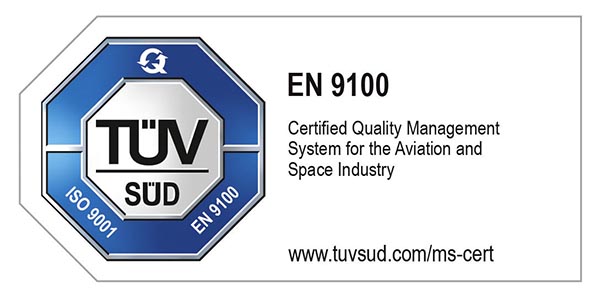 The quality of our services and products is directly impacted by the level of quality in our processes.
Since December 2011 we held certification in compliance with the international quality management standard, DIN EN ISO 9001:2015. This certification serves as a testament to our commitment to delivering exceptional performance, efficiency, and customer-centric services to partners and clients, both domestically and internationally.
Our certified quality management system plays a pivotal role in ensuring the sustainability of our service quality. We are continually dedicated to improving the efficiency of our processes, mitigating risks, and upholding a steadfast commitment to maintaining consistently high-quality standards for our products.
The exceptional quality of our approach to quality management is underscored by the outstanding results achieved during the certification process conducted by TÜV SÜD Management Service GmbH. Equally significant is the trust we have earned from our partners and customers, often exemplified through enduring and fruitful long-term collaborations.
Certificate Motorsporttechnik DIN EN ISO 9001:2015