Pressure Control Valve (Oil Circuits)
Z-V 2100 0900 
LIGHTWEIGHT: 189 g
COMPACT: 122.5 x 35 mm
HYDRAULICALLY INVISIBLE: opening pressure of 80 mbar
This Pressure Control Valve prevents the medium from flowing back, e.g., after parking the vehicle.
The valve is made of aluminum and works with a piston valve design principle. The valve has a low opening pressure of approx. 80 mbar. A backflow opposite to the flow direction is not possible due to the designed piston geometry.
Of course, this valve can also be scaled to any requirements, different connections, and different mediums.
Details:
Valve: piston valve
Hydraulic connections: M26x1,5 spherical head, DIN3863, male/female
Mounting: any installation position
Measurements:
Length: 122.5 mm
Diameter: 35 mm
PCV – F-SERIES
Z-V 2100 06XX
Extremely lightweight and compact pressure relief valve made of high-strength aluminum;
Opening pressure and connectors according to customer specifications
FORM -06 connectors as standard:
Weight: 20 g (-06 connector)
Length: 53 mm (-06 connector)
Material:
– Housing: EN-AW 7075
– Seal: BF750; other sealing materials optional
Surface: Black anodized
FIT
Connections: -6, further connections on request
Application: Protection of pipeline systems, tanks, etc. from overpressure, pressure control valve for defined system pressures
Mounting position: any
FUNCTION
Piston valve
Opening pressure: According to customer specifications
Bursting pressure: 170 bar
Pre-pressure valve
Holding pressure 1.5 bar:
B-V 0200 0415, Connectors: IN: -4, OUT: M10x1
B-V 0200 0010, Connectors:  IN: -4, OUT: -4 
Compact pre-pressure valve for clutch or brake systems; holding pressure adjustable according to customer specifications
FORM
Weight:

B-V 0200 0415: 42 g
B-V 0200 0010: 53 g

Length 38 mm without external thread
Material 1.4301 Stainless Steel
Sealings EPDM
FIT
Connections:

IN: 7/16-20 UNF
OUT: M10x1 or 7/16-20 UNF

Other connections on request
Application: clutch, brakes
FUNCTION
Opening pressure 200 mbar
Holding pressure according to customers specs up to 3 bar
Burst pressure > 500 bar
Pressure regulator valves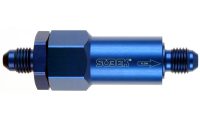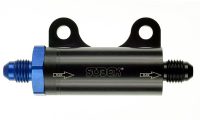 | Size (in) | Size (out) | Opening pressure | Sealing | Material |  Model | Article number |
| --- | --- | --- | --- | --- | --- | --- |
| M08x1 female | -4 | 1.5 bar | EPDM | Aluminum | in line | Z-V 7000 1150 |
| M10x1 female | -4 | 1.5 bar | EPDM | Aluminum | in line | Z-V 7000 1501 |
| -4 | -4 | 1.0 bar | EPDM | Aluminum | in line | Z-V 7000 0100 |
| -4 | -4 | 1.5 bar | EPDM | Aluminum | in line | Z-V 7000 1500 |
| -4 | -4 | 1.8 bar | EPDM | Aluminum | in line | Z-V 7000 1801 |
| -4 | -4 | 2.5 bar | EPDM | Aluminum | in line | Z-V 7000 2500 |
| -4 | -6 | 1.0 bar | FPM | Aluminum | with bracket | Z-V 7000 1001 |
Cartridge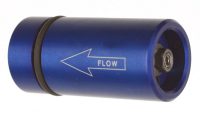 | Opening pressure | Sealing | Article number |
| --- | --- | --- |
| 1.0 bar | FPM | Z-V 7000 1000 |
| 1.8 bar | EPDM | Z-V 7000 1800 |
| 2.5 bar | EPDM | Z-V 7000 2501 |
| 7.0 bar | FPM | Z-V 7000 6000 |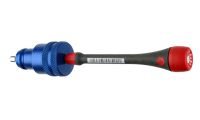 Adjusting tool: Z-W 7000 0001